Funny Dinosaur Spot the Differences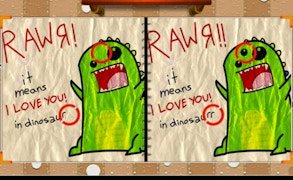 Funny Dinosaur Spot the Differences
Welcome to an adventure in one of the latest and finest dinosaur games tailored specifically for our young ones: Funny Dinosaur Spot the Differences. This game will not only send your kids on an exploration journey back in time to the age of dinosaurs, but it also offers a unique blend of fun and education.
Part of the exciting realm of Games for Kids, Funny Dinosaur Spot the Differences is an engaging spot-the-difference puzzle game designed to capture children's imagination. Each level presents vibrant images filled with various friendly dinosaurs, motivating players to discover all the incongruities in every scene.
In this delightful journey among fossils, prehistoric landscapes, and friendly dinosaur characters, your children will engage in challenging play that stretches their cognitive abilities. As one of the most effective brain games for youngsters, it fosters problem-solving skills all while being set in a fun-filled environment that keeps them entertained.
Different from other dinosaur-themed games, Funny Dinosaur Spot the Differences empowers your kids by improving their attention span and enhancing their memory retention capacity. Each level has its unique features that ensure children are focused throughout gameplay, thus making it perfect match for those searching for effective memory games.
Funny Dinosaur Spot the Differences is a must-have addition to any child's gaming library. By merging entertainment with cognitive development features, this game successfully makes learning a vivacious journey packed with excitement. Unearth the magic and mystery of these ancient creatures as you navigate through playful challenges with your kids in this captivating dinosaur game.
Get ready to immerse yourself into an outlandish journey towards a time long gone while boosting your child's cognitive abilities with Funny Dinosaur Spot the Differences!
What are the best online games?