Fish Survival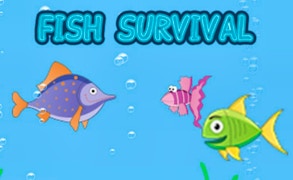 Fish Survival
Brace yourselves for a thrilling underwater adventure with the riveting Arcade game, Fish Survival. As one of the more captivating fishing games in the gaming world, Fish Survival tests your ability to outsmart and outmaneuver ocean threats in a visually stunning environment.
In this aquatic odyssey, you play as a little fish with a big problem - larger fish looking to make a meal out of you. Your task? Evade imminent danger and live another day. More than just simple entertainment, this game puts your survival instincts and quick thinking to the test, making it one of the most engaging Skill Games out there.
What makes Fish Survival truly unique is how it successfully blends elements of escape games. Here, you're not just avoiding hooks or nets, but hungry predators in real-time dynamic environments. It's an endless race against time as every second counts towards your survival. That rush of adrenaline as larger predators close in on you is sure to keep you on your toes.
This is not just about darting through coral reefs or hiding behind seaweed but about strategizing your moves carefully and seizing opportunities to escape life-threatening situations. The controls are smooth and intuitive, making you feel at home under the water even as danger looms large at every corner.
In conclusion, Fish Survival delivers an irresistible blend of thrill-filled chase scenes with seamless controls and eye-catching graphics. This innovative addition to the fishing games and escape games genres is bound to reel gamers in with its sheer intensity and immersive gameplay – a test of dexterity that'll keep you hooked!
What are the best online games?