Fireworks!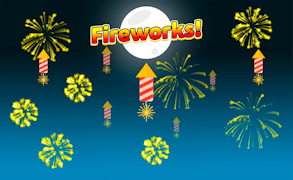 Fireworks!
Description
In Fireworks!, light up the night sky with a vibrant spectacle that is both enchanting and challenging. This unique puzzle game revolves around triggering a cascade of colorful firework balls by matching at least three of the same color. The goal is to clear the board of all balls before they reach the end of their path. With simple mechanics and captivating visuals, every round promises an explosion of fun.
How to play
The game uses simple click-based controls. Click on a group of at least three firework balls of the same color to ignite them. The strategy lies in creating and igniting larger groups to earn more points. Don't forget to monitor the entire path as balls continue to move towards the end. The game ends if any firework balls reach the end of their path, so be quick and strategic.
Tips and Tricks
Focus on igniting large clusters of fireworks first for higher scores. Try to manage your fireworks effectively so no balls reach the end before you clear them all. Always keep an eye for combinations that will open up other larger clusters, setting up your paths for a spectacular chain reaction.
Features
Straightforward yet engaging gameplay reminiscent of classic match-3 games.
Visually striking graphics that make each round as dazzling as a real-life fireworks display.
A high score system that adds a competitive edge to your matching strategies.
A gradual increase in difficulty, ensuring that every round is more challenging than the last.
What are the best online games?