Count Master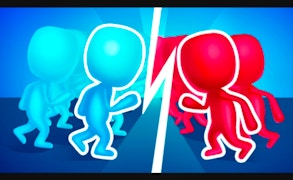 Count Master
Meet Count Master, the latest addition to the riveting world of stickman games. This unique arcade offering takes the fun of traditional stickman-based gameplay and ups the ante with a juicy blend of number games, battle games, and running games. It's a dynamic, adrenaline-pumping collision of genres that will keep your fingers twitching and your mind racing.
Much more than just a simple running game, Count Master cleverly incorporates elements of number games. As the leader of an ever-growing crowd of stickmen, your ability to count quickly and accurately forms the heart of this game's challenge. For each adversary you defeat, for each obstacle you overcome, your mob only grows larger and your responsibilities greater. Can you keep up?
But don't let the counting element fool you into thinking this is just a numbers game. Behind its Cartesian veneer lies an intense battle game. You'll face off against rival stickman gangs in tumultuous clashes that will test both your finger dexterity and strategic wits to their limits. Only by astutely managing your resources and exploiting enemy weaknesses will you emerge victorious.
In summary, Count Master proves itself as an intoxicatingly brilliant mix of genres that stand out in today's oversaturated market. It's a testament to what can be achieved when developers think outside the box and blend previously disparate gameplay mechanics seamlessly into one cohesive package. So strap in for some mathematically-charged combat with Count Master - it's truly a shining gem among arcade, stickman, and running games.
If you're looking for something fresh, something challenging, or simply something different from the norm - then Count Master may just be your next arcade addiction. Don't miss out!
What are the best online games?