Color Race 3D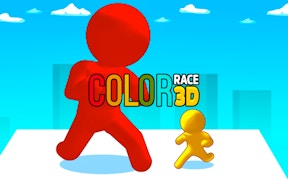 Color Race 3D
If there's one thing that may match the popularity of fighting and shooting in video games, it's racing but not like the racing in Color Race 3D. Racing games typically have you driving around in cars, carts, or other such vehicles so you can satiate your need for speed. Still, you can't shake the feeling that being able to win a race on your own physical prowess would feel pretty good and immensely satisfying. This game has you racing towards a fight and the tracks give you all the obstacles and power you'll need to finish it and keep running.
About Color Race 3D
The internet is filled with ads for various mobile games that look simple and colorful but rarely are what they showcase. This game is different as it follows the style of those types of games and actually lives up to it. It's uncanny how well it captures the gameplay of those ad-games and how enjoyable it can be when you're sitting down to play. It sets things up to ease you into the game while also getting started as soon as you want. If you do end up losing, there's no big loss and the difficulty is there to match your growing skills.
How to Play
Color Race 3D is a 3D auto-run game that you control using the mouse to simulate slide controls. To move your running figure, click and hold the Left Mouse Button then drag to the left or the right. The figure will run forward at a constant pace and you need to steer them along the straight track. The goal is to gain enough power to defeat the opponent at the finish line.

Each level starts you off as a small red figure. You'll encounter other figures placed along the track and you can collect them to add their power to yours which is indicated by the figure growing in size. Be warned that if you run into figures that don't match your current color, they will instead drain your power. You will also encounter colored walls that you have no choice but to break through. They will drain a chunk of your power, but some walls will have different shapes being larger or smaller in some areas.
You can also collect coins along the track as you run. These can be used to purchase different Hats in the shop accessed on the left side of the screen or on an increased starting size from the right side of the screen.

Tips and Tricks
Although this game has sliding mechanics, your figure doesn't have that much mobility. You'll need to make decisions as you approach certain figure formations to maximize the amount of power you can gain. Always prioritize power over coins.
Game Details
Developer: Keinax
Platforms: Web Browser (PC and mobile) and Android
Languages: English
Gameplay Footage
FAQs
Is Color Race real?
Color Race 3D may not be based on it, but there are events known as "Color Runs" where runners run a 5k race and are covered in a different colored substance at every checkpoint.
Games similar to Color Race 3D
From the appearance and gameplay, this title is put into the Stickman and Running Games categories on GamePix. The other games in these categories include Giant Rush, Escape From Prison, Dark Lands, and Draw Weapons Rush.
What are the best online games?