Christmas Reindeer Differences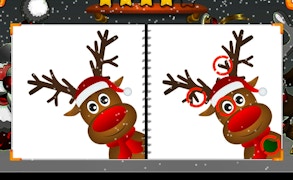 Christmas Reindeer Differences
Welcome to the enchanting world of the festive, family-friendly puzzle game Christmas Reindeer Differences. Known for its captivating blend of Christmas games and memory games, this game offers a unique take on traditional brain-boosters.
The premise is simple, yet alluring. You are presented with two seemingly identical images of jovial Christmas deer, and your task; hunt down the five hidden differences that lurk within each pair. But don't be fooled! This delightful twist on classic memory games is not as easy as it may seem!
This game combines the whimsy of holiday-themed animal games with the intellectual challenge of top-tier brain games. It's a mind-tickling pleasure that kids will find both fun and beneficial. Perfectly designed with our younger puzzle solvers in mind, this gem amongst Games for Kids will surely keep them entertained for hours.
The charm of Christmas Reindeer Differences lies in its simplicity; it requires a keen eye and sharp memory, offering a brilliant way to test and improve these skills. The magic doesn't stop there though. Rendered in HTML5 graphics, the beautifully crafted images possess a holiday magic sure to delight players.
In conclusion, Christmas Reindeer Differences embodies all we love about truly engaging kid's puzzles. It is charming in bringing the Christmas spirit to life while still providing a challenge that strengthens memory and observation skills. By efficiently merging elements from christmas games, memory games, brain games, and animal games, Christmas Reindeer Differences has created an irresistible invitation into a festive world brimming with challenges ready for your child to conquer this season.
What are the best online games?