Animals Crush!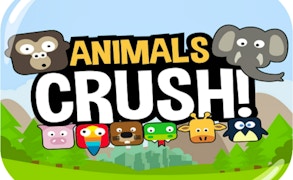 Animals Crush!
Welcome to the world of Animals Crush! - a delightful blend of brain games, animal games, and match 3 games. This vibrant and entertaining game offers a unique challenge for the young and young at heart. Optimized for kids, this game involves matching three or more objects by swapping two pieces or simply clicking on a group of three or more.
Designed to exercise your little one's gray cells, Animals Crush! doubles up as both a fun leisure activity and a potent cognitive enhancer. This element of brain-games makes it an engaging tool that aids in enhancing problem-solving skills. Simultaneously, it stimulates the minds of the kids while giving them a sense of accomplishment with each completed level.
The beauty about Animals Crush! is that it effortlessly combines learning with entertainment. Each level presents various pictures of cute animals that will undoubtedly capture the heart of every kid and perhaps even ignite their interest in wildlife. The inclusion of animal games sets a delightful tone to the overall gaming experience.
The match 3 games format is easy to understand but hard to master which adds an alluring aspect that keeps it challenging yet not too daunting for kids. As they play, they will encounter different kinds of animals - each bringing its own unique charm and challenge.
In essence, Animals Crush! is more than just a game - it's a doorway to learning, adventure, and excitement specifically crafted for kids. It skillfully blends brain games with animal themes making it a perfect choice among Games for Kids. So when you're thinking about how best to keep your child engaged while actively enhancing their cognitive skills - think Animals Crush!
Bright graphics, charming characters and captivating gameplay make this innovative blend an absolute hit in the realm of Kids' Puzzle Games.
What are the best online games?