Angry Heroes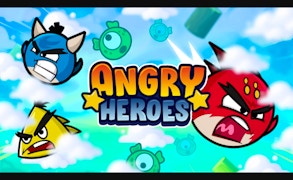 Angry Heroes
Description
Embark on an exhilarating journey of valor and strategy in Angry Heroes. This dynamic shooter physics-based game invites you into an alien-infested world where only skilled heroes can save the day. Accompany your team of tiny warriors, use your powerful slingshot and leverage various power-ups to obliterate alien shelters across numerous levels, culminating in epic boss fights. With its thrilling narrative and engaging mechanics, Angry Heroes provides hours of addictive gameplay.
How to Play
To play Angry Heroes, use your cursor to aim the slingshot and click to shoot at alien shelters. The key is to accurately gauge the trajectory and power of your shot for optimal impact. Use the power-ups wisely to maximize damage. Progress is made by clearing all aliens from each level before advancing to more challenging tasks.
Tips and Tricks
Players should aim their shots carefully, timing them optimally for maximum effect. Simultaneously, keep an eye out for power-ups, as they are crucial in maximizing damage and annihilating sheltered enemies effectively. Always strategize on how to defeat bosses; they require more tactical play.
Features
Intuitive Controls: Simple point-and-click mechanism ensures easy gameplay.
Action-Packed Levels: Each level brings unique challenges with different alien shelters and bosses.
Variety of Power-Ups: Boost your progress with diverse power-ups that enhance damage output.
Fantasy Adventure: Engaging storyline that captures the imagination from start to finish.
What are the best online games?