Aircraft Combat 2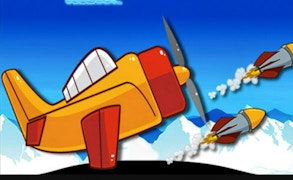 Aircraft Combat 2
If you've ever dreamt about soaring through the skies, leaving the humdrum world behind, then Aircraft Combat 2 is the game you need to try. Embodying everything we love about airplane games, this exhilarating, fast-paced action game takes you on an adrenaline-fueled thrill ride across a variety of scenic landscapes and packed with intense battles.
To put it simply, Aircraft Combat 2 is not just another flying game. It's a symphony of roaring engines, lightning-fast reflexes and nail-biting aerial combat. Skill games have always been a benchmark of gaming prowess and this one requires just the right mix of precision, dexterity, and timing.
With its gripping storyline and challenging gameplay dynamics, Aircraft Combat 2 is guaranteed to keep you on the edge of your seat. The game immerses you in heart-pounding aerial warfare that will challenge even the seasoned gamer. Be it navigating through a hailstorm of bullets or executing a daring mid-air manoeuvre, this game is all about showcasing your piloting skills at their best.
The battle games aspect is particularly impressive in Aircraft Combat 2. Each battle is unique and requires different strategies, making every mission feel like a new challenge. You'll find yourself developing strategies, learning from your failures and celebrating your victories - all hallmarks of a truly immersive gaming experience.
In summary, Aircraft Combat 2 is more than just an airplane game. It's an endless roller coaster ride full of high-octane action, thrilling close-shave moments and strategic battles that will test your skills to the limit. Whether you're an aviation enthusiast or simply looking for an action-packed gaming experience, Aircraft Combat 2 won't disappoint.
What are the best online games?